Size Up: When arriving to a basement fire it's important to identify key size up indicators that will be of concern in the first several minutes of operation. In addition to any life hazards, identifying lightweight truss, balloon frame construction, structures built on a slope or hillside, combustible exterior siding, bars on windows, and renovated buildings are just several concerns that will influence your initial strategy and tactics. Response time, trapped occupants and manpower will also factor into your tactical decisions. Recognizing the reported fire location given by dispatch, weather conditions and time of day before you even leave the station puts you ahead of the game. Confirming location and extent upon arrival will help determine any rescue options, access, ventilation options, and line selection. 

On approach, look for exterior cutout or Bilco doors as an option for secondary egress, fire attack, or ventilation. Take a quick look inside the basement window while stretching the line. For trapped occupants on upper floors, have a charged line for protection of the normal escape route (interior stairs, front door) and consider starting ground ladder placement for VES.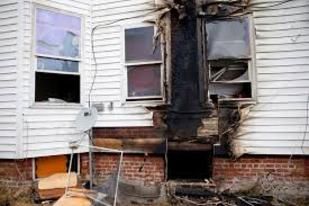 Exterior Fire Spread: Vented basement fires will have to be stopped from spreading up the exterior siding. Fires that are not venting from well windows can still spread up the interior wall through void spaces, especially in balloon construction. Stop any vertical exterior fire spread by quickly applying water from exterior and opening up the siding.
Construction: Not all basements are the same. Basements in urban areas with ordinary construction will differ from those in rural and suburban areas with wood frame construction. An urban basement may have low ceilings, hoarding conditions, illegal boarding with partitions, oil burner, exposed utilities, open stairs, and unprotected 2x10 dimensional lumber. The suburban basement may have a large open space with 10' ceilings with an engineered lightweight I-beam floor above, protected by drywall. It may be used as an entertainment room, or an apartment with a rear cutout or bilco entrance door. A row of taxpayers may have common basements with trap door access in the rear of the first floor commercial business with exterior access through sidewalk cellar doors.
During size up, try to determine the construction and occupancy type. Although not an exact science, this information may help determine the floor support system, access/egress points, and contents burning below. If a 360° isn't possible, do a 270° and assign another company (or BC) to check the rear, especially if you have a row of attached homes. If it's a wood-frame balloon constructed home with fire, we already know to quickly get crews to the upper floors and loft to stop the vertical fire spread. If floor supports are engineered I-beams, fire will quickly burn through the web member and weaken the connection points. Steel C-joist concerns are deformation and connection failure.

Location and Extent: Determining if it's in the basement can be difficult if you arrive to smoke showing on all floors with no visible fire. Check the basement windows, gather information from the residents, use a TIC on the first floor (perimeter/registers) or perform a 360° size up. Upon entering the front door to make your way to the interior basement stairs, high intense heat is an obvious sign you have fire below. If you have heavy fire venting out of the basement windows on arrival, consider a coordinated transitional attack.
Water Extinguisher: You would be amazed at the amount of BTU's a few water cans will absorb in a basement fire.
Line Selection and Placement: For basement fires, the first attack line should be a smooth bore nozzle. With a limited ventilation fire in a container below, less steam production and more GPM's, it's the obvious choice. The attack and backup line should be charged BEFORE entering the basement. The fog nozzle (or breakaway) as the second line is not always a bad choice, as it helps with hydraulic ventilation to clear smoke/steam out of the basement and improve visibility after a quick knockdown. The second line must stay charged on the first floor ready to go in case the attack line has a problem. Firemen have been trapped, injured and killed in basement fires by hoselines being burned through on the floor above.
Determine the best entry point to attack the fire. If there's an outside entrance, stretch through there IF it's a better option. Most of the time in urban residential structures, especially row homes, it's the front door to the interior basement stairs. Make sure to check which direction the interior basement door opens before you charge your line. If it opens towards you, it may be difficult getting past the door with the line (once charged) and in position to descend the stairs. In that situation, it may be better to flake excess line past the door into the next room, and advance from that direction. If the interior basement door opens away from you, the products will hit you quickly, but at least the line won't be pinched under the door. Door control must be maintained until the line is ready. If the door has burned through, preventing the vertical fire spread becomes priority.  
TIP: Do not open a line in the window or bilco door while interior crews are advancing down the stairs or inside the basement 
For commercial buildings and taxpayers, it's usually the interior basement stairs, although exterior entrances and sidewalk doors have been used before for fire attack. These openings better serve as ventilation points. Be aware of hinged trap doors inside that may be left open. Firemen advancing in low visibility may fall through them into the burning cellar. These are common on the first floor in ordinary constructed mercantile-taxpayers.
In large area basements and cellars, do not lose contact with the hoseline! During an emergency, it can lead you back to the basement or cellar steps.
REMEMBER: Life safety is the top priority. The initial attack line will first protect the interior stairs for escaping occupants, fire spread, and firemen conducting searches above.