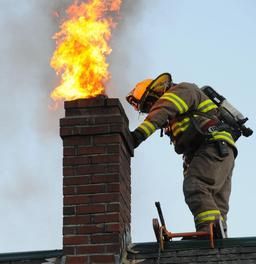 Chimney fires are rare events, which is why we should review our tactics for them every season to ensure a quick effective coordinated attack. Doing this will help prevent chimney fires from becoming all-out structure fires. If not controlled quickly, chimney fires have the potential for interior and exterior fire spread. 
Chimneys are vertical structures that ventilate smoke or hot gases from boilers, oil burners, fireplaces, stoves and furnaces to the outside atmosphere. The inside of a chimney is called the "flu" which is a duct or pipe that exhausts smoke and gas from fireplaces, furnaces, water heaters etc.. Chimneys have many uses from burning wood to provide heat in a home, to venting an incinerator in a highrise apartment building. We should prepare for fires involving the common types of chimneys in our response areas.
Chimney fires are not a regional issue, they occur in urban, suburban, metropolitan, and rural areas consisting of residential and commercial occupanices.
My career department is an urban department in the northeast with numerous ordinary and wood-frame constructed rowhomes, semi-detached homes, residential highrises, and taxpayers. From a fire standpoint, concerns in the city will most likely involve residential chimneys with oil burners located in the basement or cellar. 
My suburban department is mostly wood-frame single family homes, non-combustible commercial and retail properties. From a fire standpoint, the chimney concerns there involve SFD's burning wood to heat the home, with most fireplaces located on the first floor. These have the potential for interior and exterior fire spread from stray or unattended embers, creosote buildup, or liner penetration.  
In general, regardless of region, all types of chimneys with various construction will be located somewhere in your response area. Most are of brick/masonry and have tile, terracotta or metal flues. Older homes may not have a flue at all. Whether you are an urban, rural, or suburban department, every year prior to chimney season (usually the fall) schedule a chimney fire training review. Make sure the engine and ladder company work together to control these fires early. 
A reported chimney fire should require a structure assignment response as additional manpower will be required to effectively mitigate a chimney fire. Most chimney fires are contained fires, but if not controlled quickly, can extend to the roof, cockloft, attic, basement, and the exterior.
Most chimney fires are caused by highly combustible creosote build up in the flue. Cracks and openings in the flue with exposure to wooden structural components can also start a fire. Flames, sparks, and fast moving dense smoke accompanied by a roaring sound are sure signs of a chimney fire. These fires can burn up to 2000°F destroying  liners, bricks, masonry materials and contributing to fire spread in combustible parts of the structure. A well coordinated effort will be needed to extinguish the chimney fire before spreading to the rest of the structure. In the video below, the chimney fire extended to the structure.