We have the distinct honor and pleasure to offer our Firefighter Bailout class at FDIC 2015 this year as one of the HOT classes.  We feel, like most, that we should train and drill constantly on the basics like engine company operations, search, ventilation, fire behavior, ladder work, forcible and the list goes on, to prevent the need for a firefighter to have to exit an upper floor window.  However, the reality is that we can do everything correct and still find ourselves in a situation that we have no control over and there are many factors that determine that.  We believe it's rare, but it is something that can happen and we must be prepared.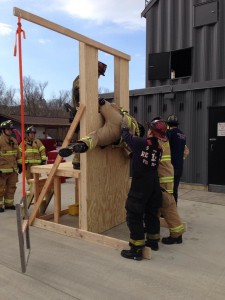 Our philosophy for firefighter bailout is not about how high the window is or how fast you can do it, but it's about creating good technique, muscle memory and building trust in the equipment.  When we train this is primarily done on a low prop.  It's a version of the low prop that you might see others use for basement drills.  There are some very good reasons to use the low prop regularly when training and practicing bailout techniques.
Not everybody has a tower or building with elevated floors to train in.  This should  not prevent you from being proficient with your bailout system, no matter what you choose to use.  Bailout proficiency is not acquired from height, but rather from multiple repetitions.  The low prop allows any department or training agency to get as many reps as you want with minimal cost and it can be done safely in the engine bay or basement of the engine house.
We have found that students learn better when they are comfortable with their environment and skills.  There are obvious benefits to high stress training, but for bailout proficiency we have to build to that level over time and with multiple reps to create and maintain good technique.  Starting firefighters on the low prop allows for increased familiarity with their system, perfecting techniques, all with minimal risk.  This builds confidence for when they do get to the elevated windows.
The low prop also creates a better learning experience to fix small, but critical issues that are hard to do on the elevated window.  Little things like hooking the leg, hand placement on the hook and the rope, staying low and hanging are critical for the successful bailout.  With the low prop we can easily see the more intricate skills and slow down the process with the instructor right with them.  There is time and space to make those corrections without the need for a safety line and the anxiety that can come with the elevated window.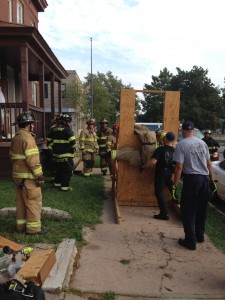 Finally, the low prop allows for maximum repetitions and that is what is critical for mastering this skill.  When using the elevated window, whether in a training tower, a hose tower or an acquired structure it is a much larger production just due to the safety aspects.  We have to have edge protection, safety lines, a window instructor, and all of that takes time to set up, run and break down. Additionally, firefighters are not able to get as many reps in the same amount of time that they could with the low prop.
That is not say that the elevated window should be eliminated, it should not!  It is still a critical component of firefighter bailout training.  The low prop just offers firefighters and officers the opportunity to get maximum reps with low risk, low cost and in a much shorter time.
In the video you will see a firefighter's leg get hung up a little and some other small issues that are common in bailout classes.  Captain Andy Seers of Engine House Training, LLCis able to easily make the instruction personal for each firefighter and make those corrections quickly and easily with very low risk.
I hope this helps you in your training for bailout and offers some insight into the role that the low prop plays in firefighter bailout training.  We get a lot of comments from firefighters that come through our classes about how they don't have a tower or facility to train on.  This is our answer.
The first video is on a standard 8 foot window prop.  The second is a new prop we just built and will be using at FDIC 2015 that is 10 feet that works perfect for bailout training and basement drills.